Still (,) Here
March 27, 4pm EST
The six films in this program address what it is like to exist as trans and/or Two-Spirit (2S) outside of large cities. Shifting between experimental autobiographical narratives and documentary works, STILL (,) HERE intimately explores the fluctuating relationships we have as humans trying to navigate our lives with external forces constantly reminding us of our otherness.
The documentary focus of the screening is gently disrupted by Kennlin Barlow's allegorical and poetic compilation Above a Grey/Green Sea. This work beautifully emphasizes the importance of stillness and looking to our surroundings when it comes to identity formation.
Trans and 2S subjects are continually portrayed by the dominant culture as struggling through physical and emotional journeys, always moving, always trying to get to a different and perceived better place. This screening is my first attempt at locating trans and 2S filmmakers/narratives that emphasize something beyond stereotypical transition narratives, beyond justifying our existence. – B.G-Osborne
Presented by guest curator B.G-Osborne and the Canadian Filmmakers Distribution Centre. B.G-Osborne will also be hosting a panel with some of the featured filmmakers as a companion piece to this screening.
About Guest Curator B.G-Osborne
B.G-Osborne is a gender variant settler of Scottish and British descent originally hosted on Treaty 20 territory (Southern Ontario), currently working in Tio'tia:ke (Montréal). Osborne's ongoing projects seek to address the complexities and revisionary potential of gender-variant representation/embodiment, and unpack/share their experiences with mental illness, neurodivergence and familial bonds. They place great importance on showcasing their work in artist-run centres and non-commercial galleries across Turtle Island.
About the Canadian Filmmaker Distribution Centre
CFMDC is a not-for-profit, non-commercial media arts distributor that specializes in independent, artist made work on film and video including works from historically underrepresented communities. CFMDC advocates for a holistic understanding of production, distribution and exhibition that prioritizes artist rights, accessibility and the creation of new audiences through education and critical thinking. With over 4,000 films in the collection, CFMDC specializes in 2SLGBTQIA+, Experimental, Documentary and Animated film works.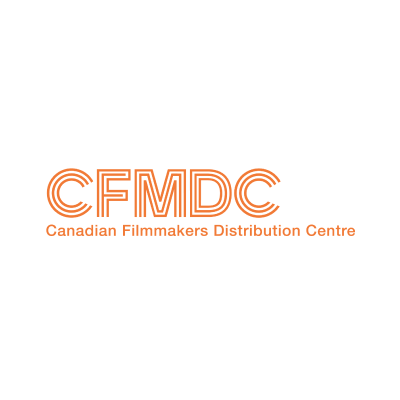 Above a Grey/Green Sea
Kennlin Barlow
Rejected footage from between 2014-2015 that is an allegory of youth, love and the refusal of letting go of the past.
Kennlin Lake Barlow is an indigenous filmmaker from Indian Island First Nations, they identify as Two-Spirited/Trans. Their work has been showcased at Cannes Film Festival 2017 in Short Film Corner. Right now they are in pre-production on their first feature film called "The Green Waterways." Being a survivor of trauma and growing up with borderline autism, Kennlin has had a lifelong obsession with film since they were 5 years old. Even though it causes many difficulties in their life, Kennlin has managed to find a way to take out their vision of pain and love through moving imagery.
HOLE
Gil Goletski
Mo is an adult with Autism Spectrum Disorder. They spend a lot of time in their brain. Today, a hole started following them.
G. Goletski is a multi-media doer originally from North Vancouver Island who gets images to move by any means necessary. Their film, HOLE, is the consummation of their experiences as a transgender person on the autism spectrum and their dissatisfaction with how medical and mental health services have failed people with disabilities.
Handsome & Majestic
Jeff Lee Petry & Nathan Drillot
"Handsome & Majestic" follows the story of Milan Halikowski, a teenager from the rural city of Prince George, BC. As a recently transitioned transgender boy, Milan deals with discrimination and abuse from his peers and teachers at school, as he seeks to find other kids like himself. Throughout these hardships, he becomes a role model and an advocate for trans people in his small community and beyond.
Salazar film is a partnership between Nathan Drillot and Jeff Petry. Our short film Handsome and Majestic, about a young trans boy in Prince George BC, premiered at Hot Docs 2016 and went on to play over 40 international festivals winning dozens of awards and being honoured by the BFI in their 5 films for freedom festival.
Do I Have Boobs Now?
Milena Salazar and Joella Cabalu
In 2015, Victoria-based trans activist Courtney Demone launched the viral online campaign #DoIHaveBoobsNow, in which she posted topless photos of her transition on social media while undergoing hormone replacement therapy. One year later, Demone revisits the global conversation she catalyzed on social media censorship policies and the sexualization of feminine bodies and reflects on the impacts of being thrust into the critical spotlight as a visible trans activist and queer feminist.
Milena Salazar is a Costa Rican documentary filmmaker based in Vancouver, BC. Her short films have screened internationally, and her latest film "Do I Have Boobs Now?" received the OUTtv Audience Choice Award for Best Short Film at the 2017 Vancouver Queer Film Festival. Joella Cabalu is a Filipino-Canadian Vancouver-based documentary filmmaker. In June 2015, Cabalu delivered her first broadcast documentary "It Runs in the Family "as a producer, director and writer.
Au pays des esprits (Home of the Buffalo)
Rémy Huberdeau
Constructed from Canadian prairie archival images taken between 1920 and 1940, this film lyrically explores a son/daughter's relationship with his/her father and the family's relationship to their land.
Rémy is a Franco-Manitoban trans filmmaker and emerging producer. He completed the DOC Institute & Hot Docs' Breakthrough Program for emerging producers and is a Documentary Director Stream graduate of Quebec's cinema conservatory, l'Institut national de l'image et du son (L'INIS). Rémy's known for creating the structure and trust required for building healthy long-term relationships that can act as the foundation of rich and meaningful storytelling. This approach can also be described as un cinéma de relations. Originally from St-Boniface, Rémy currently lives in Toronto.
Angela
Sean Horlor and Steve Adam
This short documentary explores a week in the life of Angela—a roller derby athlete and transgender rights activist in Alberta, Canada. As a jammer for the Calgary All-Stars team, she skates under the name Easy Break Oven and is a role model in the local derby community. She also coaches kids from the small-towns surrounding the city, which is one of the most conservative and religious parts of the country. While preparing for her first derby match of the season, she begins to see her teammates and her life in a new light.
Steve J Adams and Sean Horlor are a directing team from Vancouver, Canada. Their documentary and docufiction films explore the intersection of identity, memory, and popular culture. Growing up as closeted teens in rural British Columbia has had a direct influence on their filmmaking and their desire to tell stories from and about other points of view.